The New Year 2018 has had an amazing start with a new release. Maplytics now supports Dynamics 365 v9.0 and the new App for Mobile & Tablets. With this release, users can now access location insights from within Dynamics CRM anytime, anywhere which helps organizations drive better customer engagement. Year 2017 has been an equally remarkable one with many new features added to Maplytics, let's recap the Best of 2017 for Maplytics – Your favorite Maps integration solution for Dynamics CRM.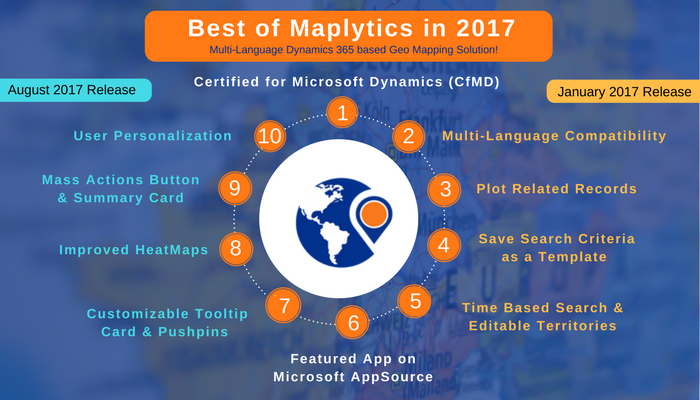 Before we start with the features let us first look at the biggest news of the year 2017, Maplytics™ has become one of the first geo-analytical mapping solutions to be Certified for Microsoft Dynamics (CfMD)by meeting Microsoft Corp.'s highest standard for partner-developed software.
Our focus has always been to work on new features and making it easier for us to capture customer geo-location data and engage in new opportunities with them.  As always our Microsoft Dynamics Partners played a very big role in this continuous transition and our End users who have been ensuring to keep Maplytics as the featured App on Microsoft AppSource.

Let's walk through the trending features of Maplytics in 2017;
With a big release at the start of 2018, we will continue to make this experience more innovative with your feedback and be on a mission of converting customer relation to customer relationships!
Get started with Maplytics and be productive on the go! Download your free trial for Dynamics 365 Customer Engagement v9.0 today!
from Microsoft Dynamics 365(CRM) Tips and Tricks http://bit.ly/2Du9PlA
via IFTTT